2023 ARTISAN/FARMERS MARKET
FRIDAYS
3-7 pm
May 26 – September 22
Legacy Plaza Pavilion
VIEW: 2023 Seasonal Market Vendors
LIVE MUSIC FROM 5-7 PM – VIEW 2023 MUSIC LINEUP
All seasonal spots are taken for 2023. Daily spots may be available upon arrival at Legacy Plaza; pay the market maker $20 to rent a spot. (first come/first served)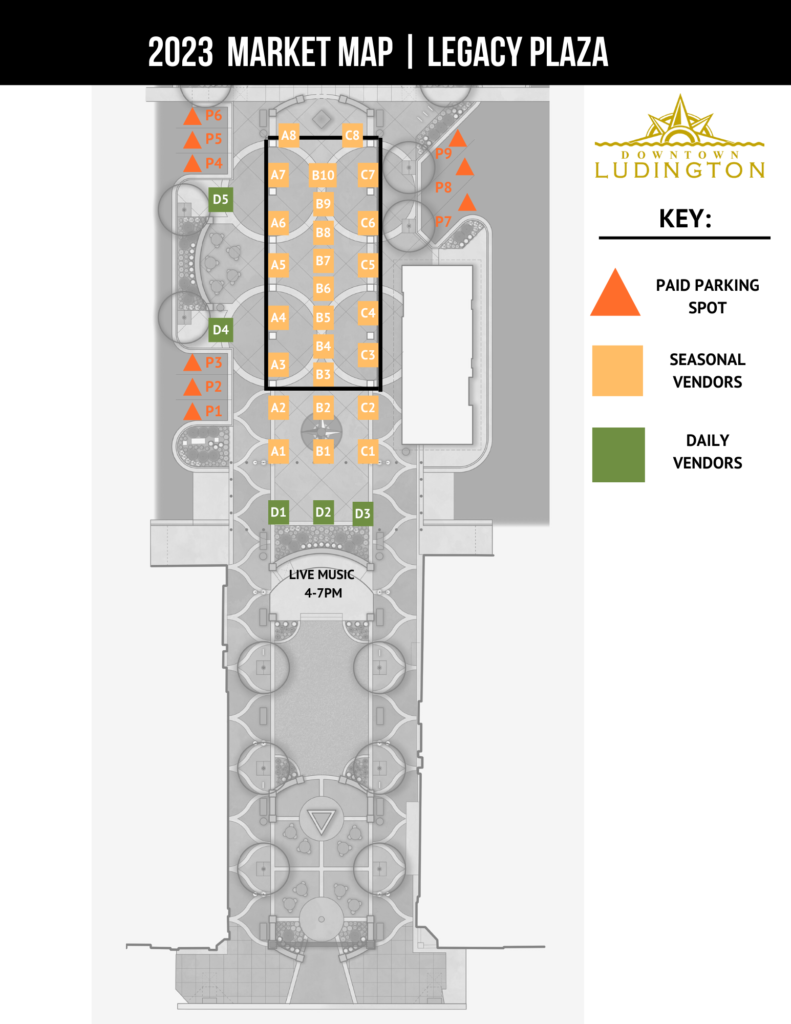 Downtown Ludington Market Rules and Information
The Downtown Ludington Artisan and Farmers Market is led and organized by the Event Coordinator at the Chamber Alliance of Mason County.
Sherry Plumley is the Market Master who is onsite at the market every week. If you are unable to attend on a day you signed up for or will be arriving late, please notify Sherry as soon as possible. She will also be your point of contact for any "day of" needs. Sherry Plumley's contact is (231) 690-2686.  
VENDOR SET UP
Both market set-up begins at 1:30pm. Arrive no later than 2pm. 

Vacant spaces can be assigned by the Market Master. 

Vendors are not to begin packing up until the Market ends unless they are out of product, at which point the Market Master must be notified.

All booths must be completely removed after the close of sales each market day.

Space size will be approximately 10 feet wide and 10 feet deep. Multiple spaces are available but require a second space fee.

In the event that one or more spaces become available and a seasonal vendor would like to move to that available space, vendors with seniority will have first option, and the Market Master will assign spaces. 
SPACE REQUIREMENTS
Market Master reserves the right to reassign spaces

Seasonal vendors will have the same space throughout the season

No vendor is allowed to move without Market Master approval
Being close to Lake Michigan, there can be (and will be) wind at times. If a vendor chooses to use a tent, it is mandatory that vendors use weights such as cement blocks, sand- filled or water-filled bottles, etc. to hold a tent in place. We insist on this for the safety of other vendors and other vendor products. No weights will be provided on site. There is NO staking of tents allowed. 
Market Master has the right to ask you to take your tent down if it is not weighted properly
VENDOR PRODUCT DISPLAY
All seasonal spaces are under the pavilion. Vendors will be responsible to furnish all display items needed. (tables, tents, umbrellas, etc.)

Vendors must display a sign with name and city clearly visible to the public. Sign size should be a minimum size of 8.5 X 11

Each vendor area must be under the "on site" supervision of a responsible person 18 years of age or older.

All vendor specific signs and other related structures such as tents shall be removed from the premises at the completion of each market day.

Vendors shall display products only within their assigned area.

Vendors shall conduct themselves in a pleasant and courteous manner with customers and other vendors at all times
SEASONAL RATE: $175
-Seasonal farmer and artisan market rental is for May 26 – September 22
-No exceptions- forms/licenses must be submitted and paid in full to qualify.
-Dedicated Seasonal Parking Spot is available upon request for $25
DAILY RATE: $20
-Daily Artisan Vendors must be pre-approved for daily or seasonal admittance.
-There are NO EXCEPTIONS to this rule.
*IMPORTANT* -The market takes place rain or shine. Reimbursements of vendor fees are not made for unattended market days.
FOOD VENDORS
Accordingly, we prioritize food vendors in the following order; if we have so many vendors that we cannot accommodate everyone, we will accept vendors according to these priorities:
Fresh food vendors (produce, meat and poultry, eggs and other products raised in our bioregion)

Value-added producers (baked goods, prepared products, cheese, sweets, etc.) whose products are both produced and sourced locally. 

Value-added producers whose products are neither produced locally nor sourced locally
ARTISAN VENDORS
Art/craft vendors whose products are based in the agricultural economy will be given preference (e.g. fiber arts, personal care products made from herbs and botanicals, leather work, etc.).
We reserve the right to limit craft vendors with same or similar type items to allow for a wider variety of products. 
NON-PROFIT ORGANIZATIONS
We will provide 2 spaces per market, free of charge, to non-profit organizations. This space is outside the pavilion. Priority will be given to organizations working in the areas of sustainability, agricultural and natural resource conservation, and community and economic development, including the arts. Products sold by non-profits will be evaluated on a case by case basis. A copy of the non-profit certification is required at the time of application. Non-profit products and booths are not required to meet the conditions above and will be evaluated on an individual basis.
FARMERS MARKET PRODUCT
Items sold at the Ludington Farmers Market are limited to fruit, produce, prepared baked goods, cheese, eggs, jams, syrups, and jellies (with compliance to all applicable prepared food laws and copies of proper permits on file with the City of Ludington DDA prior to sale), flowers, and plants.
The Ludington Farmers Market is NOT a resale market. Consumers are expecting to purchase goods directly from the grower/producer. If you are a part of a co-op or family farming operation and intend to have a joint booth with members of such an arrangement, all entities involved must be clearly stated on the application as well as the legal relationship of the arrangement and documentation must be included in the application packet. You MAY NOT purchase goods from another entity for any reason and resell those.

All produce must be Michigan grown in our growing region of Mason, Lake, Oceana & Manistee Counties. Patrons are expecting to receive local produce.

Milk, butter, and meat products are prohibited,

unless

produced at a licensed local facility and the vendor complies with all health and legal regulations.  Proof of linceses must be provided before you are able to join the market

Flea Market type items are not permitted

No resale items are permitted. This included produce.

All items sold at the Ludington Farmers Market, as well as weights and measures, are subject to inspection and approval by the Michigan Department of Agriculture.

In accordance with the Michigan Department of Agriculture Regulation Number 556 open air municipal and farmers markets, the sale of animals will not be allowed at the market.

Taxes are the sole responsibility of the vendor
ARTISAN MARKET PRODUCT
Crafters and artisans are welcome; however, only items made by the vendor may be sold.
All artisan items must be approved by the City of Ludington Market Committee before they are offered for sale. Artisans and crafters are asked to please provide a detailed description & pictures of the items for sale and works in progress in their application.

If you have any new products and are a current vendor, please email [email protected],

attach photos of the new product to make sure it is approved.

Taxes are the sole responsibility of the vendor.

Artisan products must be HANDMADE
MARKET REGULATIONS
All Vendors are required to meet all applicable rules and regulations of the County of Mason, State of Michigan and Federal laws. (Michigan Department of Agriculture, Food Division)
The Ludington Farmers Market does not intend to set vendor prices. However, vendors will keep in mind that this is a retail market, not a wholesale market. Please establish a fair retail price. Vendors will not practice distress pricing.

Vendors are responsible for keeping their area clean, attractive, and in good sanitary condition.

Any and all vendor generated waste; rubbish or trash must leave the market with the vendor. Do not use any City of Ludington trash receptacles.

 All seasonal vendors will be issued a Vendor Market Pass that should be displayed on the driver's side dashboard of their vehicle (to avoid being ticketed while parked in the parking lot). After a Vendor has completed his/her display set-up, they are asked to move their vehicle to a designated area of the parking lot (if the vehicle is not part of their display)

Produce and food vendors must comply with all state, local, and federal requirements governing the sale and production of their products, and acquire all necessary permits and licenses and provide copies of each to the City of Ludington DDA prior to participating in the market.

All prepared food items must be produced and packaged in a licensed and inspected facility, labeled appropriately, and compliant with all applicable laws and regulations.

 No foods are to be prepared for consumption in the Ludington Farmers Market or its premises.

The City of Ludington DDA shall not be liable or responsible for transactions made between buyers and sellers at the Downtown Ludington Markets, nor shall the DDA be responsible for theft, accidents, or lost or stolen articles.
DISPUTES/CONCERNS
The Chamber Alliance reserves the right to expel or refuse admittance to any vendor or customer who exhibits disruptive behavior at the market or violates any of  the rules.
All disputes shall be brought to the Chamber

.

Any seller, daily or seasonal in violation of these rules is subject to suspension as determined by the Market Committee. Violators shall forfeit rental of space.
For Questions and Concerns, please contact:
Chamber Alliance of Mason County
119 N. Rath Ave.
Ludington, MI 49431
231-845-0324
Community Development Department
City of Ludington
400 S Harrison Street
Ludington, MI 49431
[email protected]
231-845-6237 Fax: 231-845-1146
PLEASE NOTE:
The Ludington Farmers Market is a relatively small market. With the goals outlined above it is our intent to keep a diverse and varied product mix. Produce duplications will occur as growing seasons and products change, however, the Downtown Ludington Markets reserves the right to limit the number of duplicate craft or vendor items for sale. We reserve the right to refuse daily admittance to those selling duplicate products already represented at the market.